Brandon 6
The Brandon 6 Specialty Crane rental provides extensive glass lifting capability with significantly more reach than the competition. Other materials can be lifted including metals, granite, quartz, building panels and even concrete. 
Proportional Controls: Electric Joystick for Proportional Lift and Extend. Includes 2-Speed HI/LOW switch for precise slow speed control.
Boom: Base unit, 2 telescoping booms and one manual pull-out boom. Attachments replace pull-out boom.
Hydraulics: Gear Pump with Load Sense Dump.
Drive: 2 Wheel Drive and Braking with Joystick and Speed Dial to best provide inching control.
Rated Load Limiter: Displays rated load and actual load. Stops when rated load is reached. Detects which attachment is installed and automatically adjusts load parameters.
Specifications
24 Feet (7.33M) of Vertical Reach
16 Feet (4.88M) of Horizontal Reach
5,500 Lbs + Attachment
Woods Power Grip system
2 Wheel Drive, 2 Wheel Brakes
24 Volt Battery Powered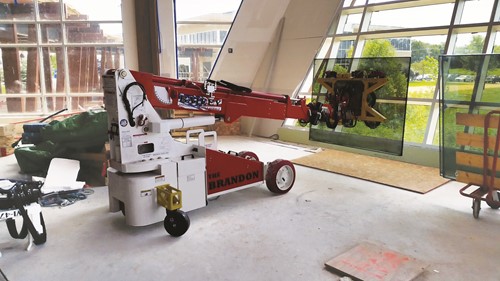 Glass Install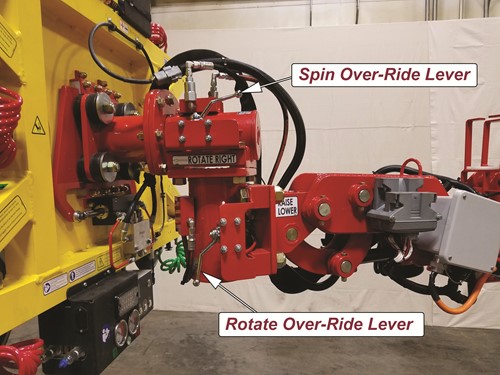 Need a more compact machine? Check out the Junior Mini Crane.
Specifications
Hook Capacity: 6,000 lbs
Fork Capacity: 2,500 lbs
Winch Capacity: 3,000 lbs
Glazier Capacity: 1,100 lbs
Robot or Jib Capacity: 1,000 lbs
Reach: Industry leading reach with below grade capability.
Battery Power: 24V 435Amp-Hour
Electric Motor: 6HP Fan Cooled DC
Weight: 5,500 Lbs + Attachment
Steering: Rear Wheel
Charger: On-board 110 Volts AC
Additional Equipment to Rent