Return to Specialized Cranes
The Junior Mini Crane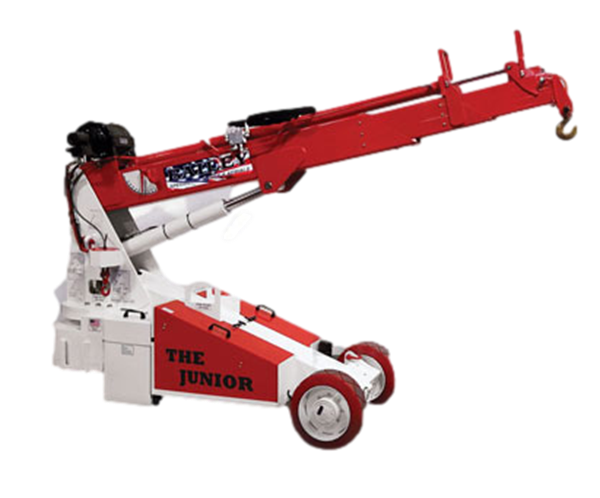 The Junior Mini Crane
The Junior Mini Crane rental provides extensive glass lifting capability with significantly more reach than the competition. Other materials can be lifted including metals, granite, quartz, building panels and even concrete.
Need more lifting capacity? Check out The Brandon, also available to rent!

Specifications
20 Feet (6.1M) of Vertical Reach
11 Feet (3.35M) of Horizontal Reach
4275 LB (1939 Kg) Machine Weight
Proportional Controls: Electric Joystick for Proportional Lift and Extend. Includes 2-Speed HI/LOW switch for precise slow speed control.
Drive: Rear Wheel Hydraulic Drive with Joystick and Speed Dial for precise control.
Rated Load Limiter: Displays rated load and actual load. Stops when rated load is reached. Detects which attachment is installed and automatically adjusts load parameters.
Progressive Function Control: Adjusts the maximum drive and lift speeds to limit unsafe operation based on the
following:
Steering Angle (Drive slow with tight radius)
Boom Height and Reach
Lifted Load (Slow when closer to limit)
Features
Rated Load Limiter - Automatically detects attachment and adjusts loading parameters
Optional Stabilizers
Removable Battery Box
Specifications
Winch Capacity: 1,950 lbs
 Hook Capacity: 1,950 lbs
 Fork Capacity: 1,950 lbs
 Glazier Capacity: 1,000 lbs
 Robot or Jib Capacity: 1,000 lbs
 Reach: Industry leading reach with below grade capability.
 Battery Power: 24V 435Amp-Hour
 Weight: 4,275 lbs
 Steering: Rear Wheel
 Charger: On-board 110 Volts AC
Additional Equipment to Rent