Return to Hilman Traksporter
Hilman Traksporter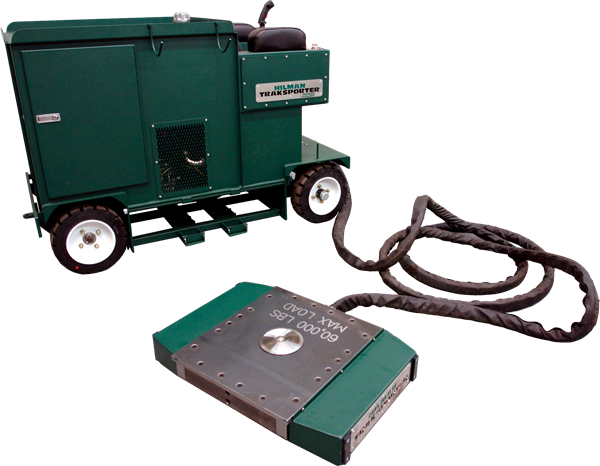 Hilman Traksporter
The Hilman Traksporter rental is a self-propelled crawler system designed to move heavy machinery or other heavy objects safely, easily and efficiently while not damaging the floor surface.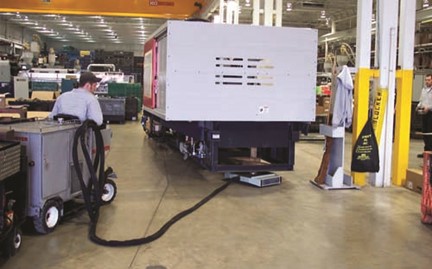 Powered 3-Point Moving System The Hilman Traksporter integrates a three point moving system where the front steerable unit is fully powered and operated by remote control. This design offers accuracy, ease of use, and safety.
The Crawler is a remote controlled steering and drive mechanism that is used to direct the movement of whatever is being moved.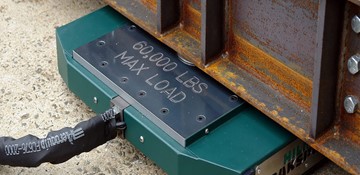 A turntable with aggressive anti-slip pattern on top and bearings underneath allow the crawler to rotate under the machine being moved.
Two steel tracks controlled via joystick on the remote control allow the crawler to push, pull and turn 360 degrees.
Precision-made steel track pads will not damage smooth concrete floors.
Can be used in conjunction with a pair of unpowered rear dollies that allow the tracks to follow the contour of the concrete and help distribute the load evenly.
Optional 55 Ton Turtleback has a direct load capacity of 110,000 lbs. and overall capacity of 100 tons.
Crawler unit measures 26″ L x 31″ W x 6″H
 The Power Unit provides power to the Crawler.  It is also used to store the Crawler when not in use.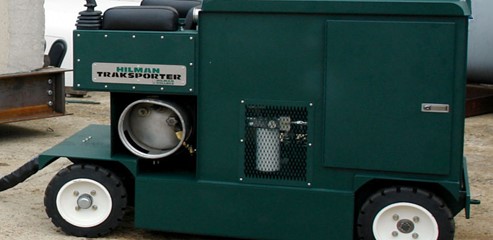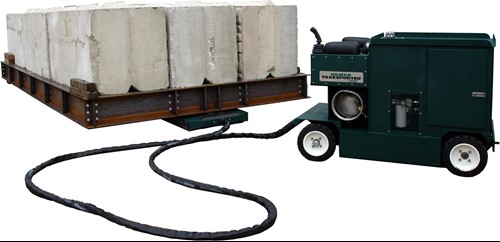 Has 30-foot long umbilical that houses the hydraulic lines to the Crawler.
Runs on a 23hp LPG powered Kubota engine that can also be custom designed to run on a 25hp electric motor.
Optional Tool Cart is available that can supply a full complement of accessories such as jacks, pumps, hoses, wedges, pads, cylinders, etc.
Power unit measures 65″ L x 30″ W x 44″ H
55 Ton Turtleback Attachment

The Hilman Turtleback has a direct load capacity of 55 tons! 
Rent this Equipment
SPECIFICATIONS

POWER UNIT

Length: 65" (1651 mm)
Width: 30" (762 mm)
Height: 47" (1194 mm)
Weight with Crawler: 2200 lb (998 kg)
Weight without Crawler: 1660 lb (753 kg)
Rear wheel drive (hydraulic)
Front wheel steering (hydraulic)
Engine: Kubota Model DF752-BI-A
3 cylinder, liquid cooled, 24 hp (17.9 kW), propane
fueled, 12 volt, low oil pressure shut down switch
Travel Speeds: Approx. 150 ft/min (46 m/min) or 1.75 mph
Forward and reverse.
Hydraulics: ISO 46W oil for operation between
+100° F (38º C) and +30° F (-1º C)
(for operation other than above specifications, consult
Manufacturer)
** Circuit reservoir holds approximately 35 gallons of hydraulic oil**
Hydraulic Filter: 3 Micron
Hydraulic System Pressure: Adjustable from 0 – 2400 psi (0-165 bar)
Hydraulic Relief Setting: 2700 psi (186 bar)

CRAWLER UNIT
Length: 26" (660 mm)
Width: 31" (787 mm)
Height: 6.5" (165.mm)
Weight: 540 lb (245 kg)
Turning Radius: Near zero turn radius
Hose: 30' (9.1 m)
Two (2) independent tracks driven by four (4) hydraulic motors, controlled by two (2)
two-way hydraulic proportional valves.
Travel speed is adjustable 0-25 ft/min (7.6 m/min) going forward, reverse, and
turning.
Capacity directly down on Crawler unit is 60,000 lb (267 kN) maximum.

RADIO CONTROL

Omnex Controls
900 MHz frequency
300 ft (91 m) operating range
Transmitter powered by 4 "C" Alkaline Batteries
Traksporter Operations and Service Manual
Traksporter Power Cart Startup
Additional Equipment to Rent