The Hilman Traksporter
Move heavy equipment easily with the Hilman Traksporter rental units. Great option for lifting and moving heavy loads in tight areas.

Request a quote for pricing and availability: 262-445-4455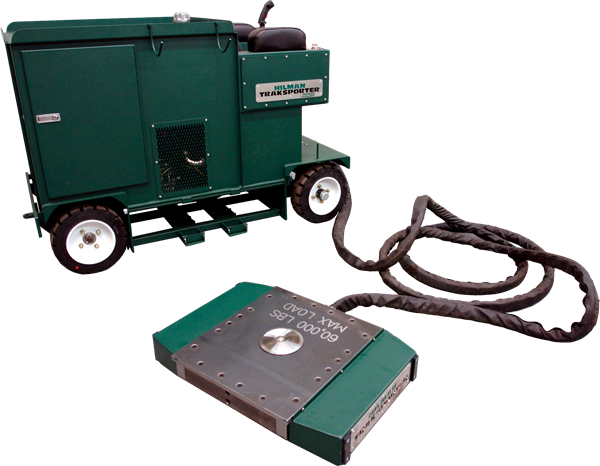 No room for a forklift on your jobsite? Rent the Hilman Traksporter. It is the heavy equipment mover you need to move heavy awkward objects in tight areas.
View Details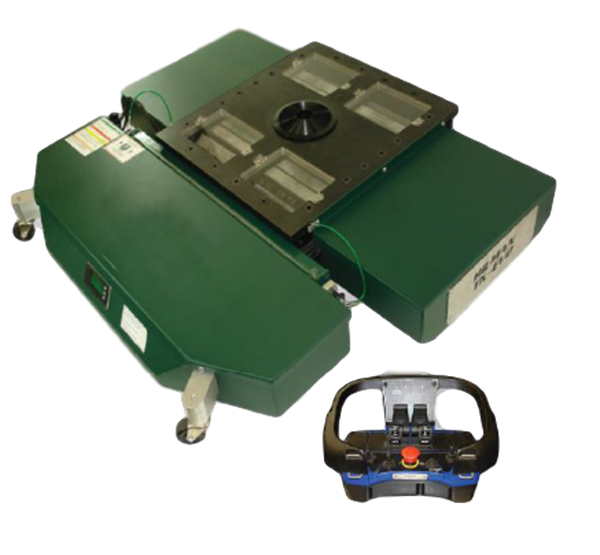 Move heavy equipment easily without cords with the electric Hilman Traksporter. Request a quote for pricing and availability.
View Details
Renting Hilman Traksporters
No room for a forklift on your jobsite? Our industrial equipment rentals, like Hilman Traksporters, are perfect for a wide variety of heavy lifting projects in constrained environments.
What is a Traksporter? 
The Traksporter was designed to move heavy awkward objects in tight, crowded, and confined areas. The Hilman Traksporter integrates a three-point moving system where the front steerable unit is fully powered and operated by remote control. This design offers accuracy, ease of use, and safety.
There are three (3) general components to the Traksporter:
Power Unit – Supplies hydraulic and electrical power to operate the Crawler, as well as power to drive and steer the power unit.
Crawler – Provides pushing and pulling as well as steering for the object being moved.
Radio Control Transmitter – Provides control of hydraulic oil to motors on the Crawler. The radio control transmitter also provides forward and reverse motion as well as steering. 
Large Equipment for Every Heavy Lifting Project Jobsite Need
We provide industrial equipment rentals for all your heavy lifting projects. There is no need to purchase expensive equipment or find a place to store large equipment, Doral Equipment Rental has a huge fleet of cranes, industrial forklifts, telehandlers, Traksporters and more available for short or long-term rental. We will deliver the equipment to your jobsite and pick it up when your project is finished.  Call us for a quote or visit our website for more detailed information on the equipment available for rent.
Traksporters We Offer
Doral Equipment Rental offers propane fueled Hilman Traksporters to move heavy objects in tight areas where it is difficult or impossible to use a forklift, as well as electric Hilman Trakporters for jobsites where exhaust fumes are not permitted. Both versions of Traksporters can move up to 100 tons, provide continuous power to navigate corners smoothly and maximum control to maneuver heavy loads in tight spaces. Hilman Traksporters are made in the USA and are known throughout the world for their dependability and durability.
Large Equipment & Carry Deck Crane Availability 
We offer a wide range of heavy-lifting equipment to fit your project whether that is one day or several months. Complete the job on your timeline. We are located near Milwaukee, WI, but deliver equipment nationwide. Find much more information about our rental equipment online, request a quote online or call 262-445-4455.