Return to CVC Versa-Lift Forklift
Combat Veterans to Careers Versa-Lift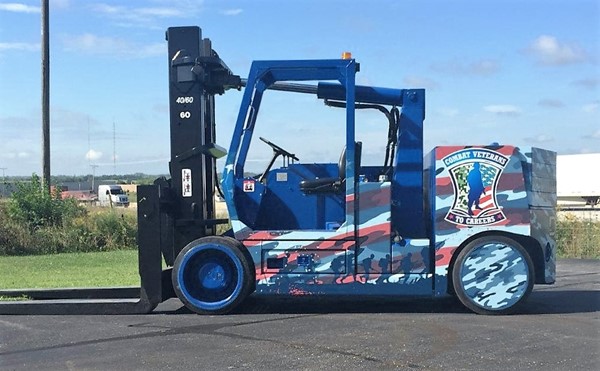 Combat Veterans to Careers Versa-Lift
A non-profit organization helping to support our veterans and their families.
CVC's goal is to provide opportunities for combat veterans who are ready for a rewarding, life-long career by giving them the necessary tools for success. Focusing on the four main areas of education, employment, affordable housing and wellness, they are able to provide our veterans and their families with 360 degrees of support and well-being.
Together we can continue to ensure the men and women who have chosen to valiantly defend the freedoms we enjoy will receive the support they need to achieve the civilian lifestyle they deserve.
Education
CVC has partnered with local colleges to help veterans continue their education towards obtaining the skills needed for a successful career. Many veterans transitioning out of the military are having difficulties juggling school while finding employment to take care of their families, resulting in the veterans dropping out of school or putting their education on hold.
With our partnership with the local college communities, we are assisting veterans and their families so that they can continue their education while working in the career field they are going to college for. Many local businesses are on board with our program and are offering positions within their companies.
Employment
The ability to obtain a rewarding career is the main objective for many of our veterans. Many are struggling to find employment, continue with their education, deal with their health issues and still provide for families.
Recognizing these challenges, CVC offers viable solutions and structured plans for addressing the aggregation of employment responsibilities and educational demands. We work directly with each veteran to ensure they obtain the necessary certifications, specialized training and/or continued education needed.
Housing
It can be extremely difficult to find suitable housing within the means of our veterans' long-term financial plans. CVC utilizes professional network resources to assist in that process. We've helped homeless veteran families secure permanent housing, including one who gained the ability to purchase his own home. This financial stability, achieved through the direct financial support and management training provided by CVC, is instrumental to our veterans' success.
Wellness
Understanding and accessing healthcare benefits through the VA can be difficult and confusing. Partnerships with local Central Florida VA offices allow us to make sure our veterans and their families receive the full care and benefits they deserve.
Versa-Lift 40/60
The Versa-Lift 40/60 fork truck can lift 40,000 pounds with the base retracted or up to 60,000 pounds with the base extended. Built with maneuverability, power, and ease of use in mind, the 40/60 is our most popular heavy-duty forklift.
Features
GM 3 Liter LP Gas Engine
2 Speed Hydrostatic Transmission
Planetary Drive Axle
Front 28 x 10 x 22 poly dual tires
Rear 28 x 10 x 22 poly tires
47% Grade empty
20% Grade loaded
Weights
Chassis
Removable Counterweight
Boom
Forks
Total Gross
33,000 lbs
16,000 lbs
6,000 lbs
3,000 lbs
58,000 lbs