Return to View All
Hilman Traksporter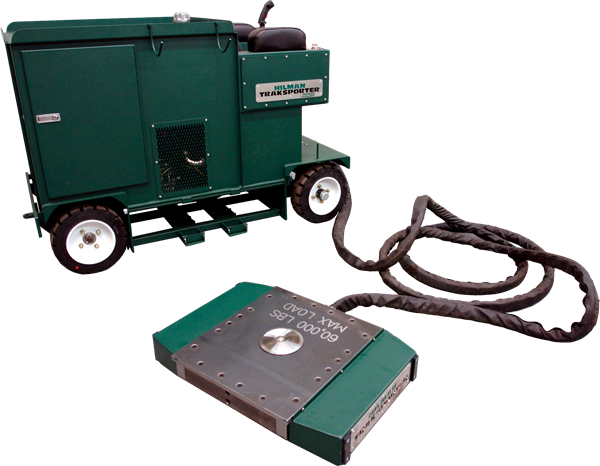 Hilman Traksporter
Buy our used Hilman Traksporter to move heavy awkward objects in tight areas where it is difficult or impossible to use a forklift or other means. 
Using the Hilman Traksporter eliminates the need to push or pull the object with a forklift, especially as equipment today is becoming more complex and sensitive to moving.  Customers will be impressed with the quickness of the move and with the minimal disruption to their operation.
Call for pricing on this used, heavy-duty Traksporter.
Rent this Equipment
Synchronized Lifting prevents load shift by keeping up to 4 legs at the same height.
Synchronized Travel keeps up to 4 legs traveling at the same speed.
Pendant or Radio Remote Control gives the operator the freedom to observe the lift from the most advantageous location.
Large Digital Display keeps the operator informed of all relevant information related to the lifting and travel operations.
Self Propelled Continuous Travel with ramp up and ramp down proportional control.
Large Body and Header Plate provides unparalleled stability and a large foundation for different rigging configurations.
Four Cylinders per Leg do the lifting. Three cylinders are capable of supporting the load in the event of a cylinder failure.
Powered by Electricity means no exhaust emissions and minimizes noise during operation.
Self Contained Hydraulics simple setup and operation.
Rugged Design meets or exceeds all applicable standards.