Return to Hydraulic Gantries
EZ Lifter 604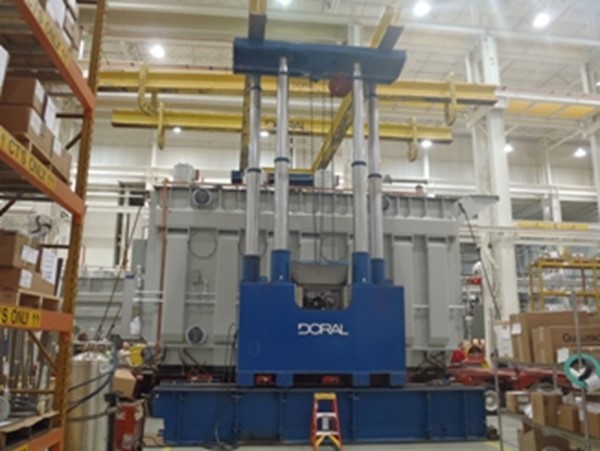 EZ Lifter 604
Each leg of the Riggers' EZ Lifter hydraulic gantry system is a complete self-contained unit consisting of an electric motor, hydraulic pump, hydraulic control valves, reservoir, and a planetary gear drive transmission for propelling the gantry leg.
The EZ Lifter has four hydraulic cylinders per gantry leg fastened to a header plate with swivel connections. This lifting platform provides rock solid stability and safe, reliable operation. The gantry legs travel forward or reverse on a track. They are driven by a hydraulic motor, and controlled from the pendant control.
Once at the jobsite, an EZ Lifter hydraulic gantry can be set up and ready to operate in less than two hours. Minimal assembly is required. Just set the gantry on its tracks, plug it in and it's ready to lift.
Rent this Equipment
Reservoir Capacity: 330 gallons (1249 L)
Operating Voltage: 440v 60Hz or 380v 50Hz
Current Draw: One Leg—21 Amps
Two Legs—42 Amps
Circuit Rating: 60 Amps
Horsepower: 20 hp
Cylinders: 4 Stage Telescopic
Synchronized lifting prevents load shift by keeping up to 4 legs at the same height.
Synchronized travel keeps up to 4 legs traveling at the same speed.
Pendant or radio remote control gives the operator the freedom to observe the lift from the most advantageous location.
Large digital display keeps the operator informed of all relevant information related to the lifting and travel operations.
Self propelled continuous travel with ramp up and ramp down proportional control.
Large body and header plate provides unparalleled stability and a large foundation for different rigging configurations.
Four cylinders per leg do the lifting. Three cylinders are capable of supporting the load in the event of a cylinder failure. 
Powered by electricity means no exhaust emissions and minimizes noise during operation.
Self contained hydraulics simple setup and operation.
Rugged design meets or exceeds all applicable standards.
STAGE HEIGHT CAPACITY
1st - 9'6" (2.90m) to 15'0.5" (4.60m) 600 tons (544mt)
2nd - 15'0.5" (4.60m) to 20'11" (6.37m) 450 tons (408mt)
3rd - 20'11" (6.37m) to 26'10.5" (8.19m) 300 tons (272mt)
4th - 26'10.5" (8.19m) to 33'0.5" (10.07m) 225 tons (204mt)
STAGE HEIGHT CAPACITY
1st - 9'6" (2.90m) to 15'0.5" (4.60m) 600 tons (544mt)
2nd - 15'0.5" (4.60m) to 20'11" (6.37m) 450 tons (408mt)
3rd - 20'11" (6.37m) to 26'10.5" (8.19m) 300 tons (272mt)
4th - 26'10.5" (8.19m) to 33'0.5" (10.07m) 225 tons (204mt)
Track
Side Shift
Large beam inventory
D-Rings
Operator available